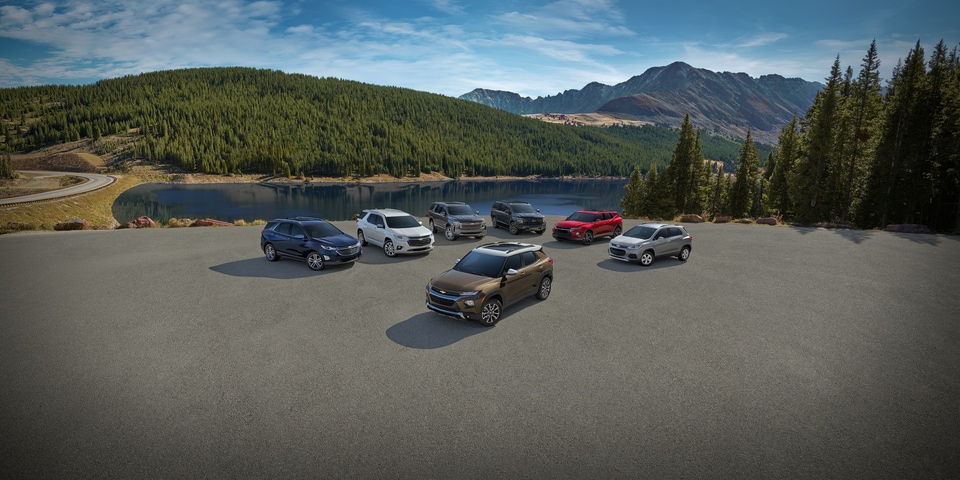 J.B.A. Chevrolet Research Hub
If you're searching for the perfect car, truck or SUV in the Glen Burnie, MD area, J.B.A. Chevrolet is your best bet. Operating in this community since 1976, we've always prided ourselves on delivering excellent customer service at any point of a shopper's journey, whether it's here in our facility on the Ritchie Highway, or, in recent years, online with a number of helpful digital resources. Of course your satisfaction depends on the kinds of new Chevy models and the wealth of used cars we have for sale, and you'll see in this research hub how easy it is to find the perfect match for your budget and your travels around Columbia, Bel Air and Annapolis. Look through at the new Chevy cars, trucks and SUVs that interest you, then visit our Glen Burnie, MD Chevy dealership today to get started on a test drive.
In addition to a full stock of new Chevy models that we invite you to check out, our Glen Burnie dealer is home to an excellent service center that's ready for all your future maintenance and repair needs. With J.B.A. Chevrolet, we'll be with you every mile of the way, so stick with us here in the Annapolis and Glen Burnie area, and we'll keep you going for the long haul, all in a Chevy that you'll love for years.
Model Research
New Chevy Silverado 1500
What else needs to be said by simply the finest full-sized truck on the market? With the new Chevy Silverado 1500, you'll find a variety of cab configurations, bed sizes and engine styles, along with some special editions and several option packages you'll want to consider. You'll also want to consider whether the standard rear-wheel drive setup or the available 4x4 configuration works best for your regular kinds of travels around Columbia and Bel Air. Along with a wealth of Chevy infotainment and safety features, there are some unique options for the Silverado 1500, including a special trailer camera system, upgraded suspension and equipment for off-roading and much more. Let us know what you need out of your next truck, and we'll match you up with the edition of the new Chevy Silverado 1500 that works best for you.
New Chevy Suburban
In a lineup with three distinct three-row SUVs, it's the new Chevy Suburban that stands out. Not only is this the largest SUV in our Glen Burnie dealership's lineup, but it's also of the dying breed of truck-based, body-on-frame SUVs that once were the way to go. That delivers a unique driving style and feel for the road, which you'll appreciate along with everything else the new Suburban provides for you and your family on the go. A few V-8 engine options offer high-end capabilities, while a turbodiesel is also offered. Of course this three-row SUV is massively spacious, with seating for up to eight and tons of room for cargo. You can expand your cargo storage capabilities even further with the easily adjustable middle and rear seats. Meanwhile, the latest Chevy tech is in place to offer high-end safety, connectivity and convenience at every turn.
New Chevy Trailblazer
SUVs are wildly popular these days, and it's the ascending class of compact crossovers that are really driving the segment above all others. That's where you'll find the new Chevy Trailblazer, a small SUV with a lot of personality. Offering easy, nimble driving with a couple turbocharged three-cylinder engine options, available AWD and lots of features, the Trailblazer is a great way for the solo driver, couple or small family to get around the Glen Burnie area. Plenty of safety systems are standard, while you can add all sorts of options and upgrades easily.
New Chevy Tahoe
New Chevy Colorado
The popularity of midsize pickups is one the rise throughout the greater Glen Burnie and Annapolis areas these days, and one of the drivers of that growth is the bold new Chevy Colorado. This versatile pickup truck is easy to customize to your tastes, so whether you're looking for a capable work horse or a rugged off-road adventurer, you're sure to find exactly what you're after in its trim lineup. Couple that with the Chevy Brand's legendary track record of reliability when it comes to pickup trucks, it's not hard to see why the Chevy Colorado is one of the most sought-after models for sale at our dealership near Bel Air, MD.
So, what makes the new Chevy Colorado really stand out from other midsize pickup trucks for sale in the area these days? Well, for one thing, it's come equipped with quite a bit more standard equipment than many of its rivals. Even at the entry level Chevy Colorado WT trim, you'll enjoy conveniences like easy-to-clean vinyl floor coverings, a 7-inch Chevy Infotainment System, and even support for Apple CarPlay and Android Auto. Spring for higher range trims like the Chevy Colorado LT or the Chevy Colorado Z71, and you'll have access to amenities like a Wi-Fi hotspot, leather-wrapped steering wheel, and even a wireless charging pad for compatible mobile devices.
Of course, one of the most compelling reasons to buy or lease the new Chevy Colorado at our dealership here in Glen Burnie, MD is its off-road capability. When equipped with its available Chevy Colorado ZR2 trim, the this midsize truck boasts up to 308 horsepower with its V6 engine, larger all-terrain tires, electronically locking rear differential, and an specially tuned suspension and shock system that's designed for off-road excellence, making it perfect for any Columbia driver who wants to pursue their outdoor adventure plans.
New Chevy Equinox
Whether you're searching for a safe SUV for your small family or a capable commuter vehicle to get your to and from work in nearby Annapolis, the Chevy Equinox is well-equipped to serve your needs. As a five-passenger SUV, the Chevy Equinox is easily one of the most popular new SUVs in our portfolio, prized for its passenger-focused design, handsome sense of style, and the generous array of safety technologies it brings to the table. In fact, even at the entry level Chevrolet Equinox L trim, you'll find amenities like Forward Collision Mitigation and Lane Departure Warning, which often cost extra to get with other small SUVs for sale around Columbia these days. Plus, all new Chevy Equinox models come with a Rear Seat Reminder function, which prevents you from accidentally leaving any valuables behind in your back seat while you're out running errands around town.
Plus, amidst a field of competitors that either try to hard to be sporty and wind up feeling uncomfortable on uneven roads, and those that strive for comfort and ultimately end up deadening steering response, the Chevy Equinox presents an attractive happy medium. With a healthy turbocharged 170 horsepower engine and available all-wheel drive, the Chevy Equinox accelerates with confidence and takes to inclement road conditions with ease and grace. Yet with its pleasantly plush suspension and quiet cabin, the Chevy Equinox smooths out rougher roads and rides remarkably quietly even at highway speeds. So, if your little ones can only be lulled to sleep by nightly rides in the car, the new Chevy Equinox for sale in Glen Burnie, MD may just be perfect for your family.
New Chevy Silverado 2500HD and Chevy Silverado 3500HD
From work to recreation, the Chevy Silverado 2500HD and Chevy Silverado 3500HD are some of the best all-purpose heavy-duty pickup trucks around. Renowned for their strength, durability, and the legendary powertrain options they offer under the hood, these two trucks are a fast favorite for small business owners and fleet managers throughout the greater Columbia and Annapolis, MD areas. And with the option to upfit these models to suit your purposes, it's no wonder that these heavy-duty pickups are so popular when it comes to taking on the toughest tasks.
With the new Chevy Silverado 2500HD, it starts off strong and only gets stronger when you look to its available powertrain options. Right out of the gate it comes equipped with a 401-horsepower 6.6-liter V8 engine, but it can also be upgraded to churn out up to a whopping 910 pound-feet of torque if your upgrade to the turbocharged variant. All told, a properly equipped Chevy Silverado 2500HD can tow up to 10,500 pounds when properly equipped, giving it more than enough grunt to move toy haulers, large utility trailers, boats, and most full-sized camper trailers.
Of course, if you need the brawn and muscle to move heavier equipment and payloads, upgrading to the new Chevy Silverado 3500HD makes sense. Available to be outfitted with a dual rear-wheel configuration and featuring some seriously powerful diesel engine options, a properly outfitted Chevy Silverado 3500HD can tow up to 14,500 pounds when properly equipped. Plus, with trailering features like available Auto Grade Braking, Tow/Haul Mode, and even Stabilitrak® Electronic Stability Control with Trailer Sway Control, you can take on payloads that other heavy-duty pickup trucks wouldn't be able to handle in a new Chevy Silverado 3500HD. Stop by to test out these heavy-duty pickup trucks here at our Glen Burnie, MD showroom.
New Chevy Trax
Are you in the market for a compact SUV or perhaps a more affordable crossover than the one you're currently driving in the greater Bel Air, MD area. If so, you're bound to find a lot to love about our new Chevy Trax. Though it's one of the smallest models one the menu with our new Chevy crossover and SUV lineup, the Chevy Trax brings plenty to the table in terms of features and amenities that Maryland drivers crave.
For example, while it's small stature may seem like a drawback in some situations, it's absolutely one of the biggest benefits to driving a new Chevy Trax around places like Annapolis. On busy city streets, the new Chevy Trax excels at negotiating its way around tight spaces like underground parking structures, and it's agility makes it easy to squeeze through small breaks in traffic to beat the rush hour crush. Plus, if you ever need to snag a compact street-side parking spot, you can easily fit into spaces with your new Chevy Trax that larger SUVS would have to pass over.
Of course, even with its compact stature, the new Chevy Trax is more than accommodating for up to five passengers on short drives around the greater Columbia area. Plus, even if you're riding solo, you'll find the cabin of the this compact SUV is roomy and replete with tech and amenities. From a built-in Wi-Fi Hotspot to fold-flat rear seating and a fold-flat front seat that allows you to accommodate longer cargo items, the new Chevy Trax mixes in quite a bit of utility to its compact and stylish form factor. Add on a slew of smart Chevy safety features like blind spot monitoring and even available rear cross-traffic alert, and it's not hard to see why so many Glen Burnie, MD drivers flock to the Chevy Trax year after year.