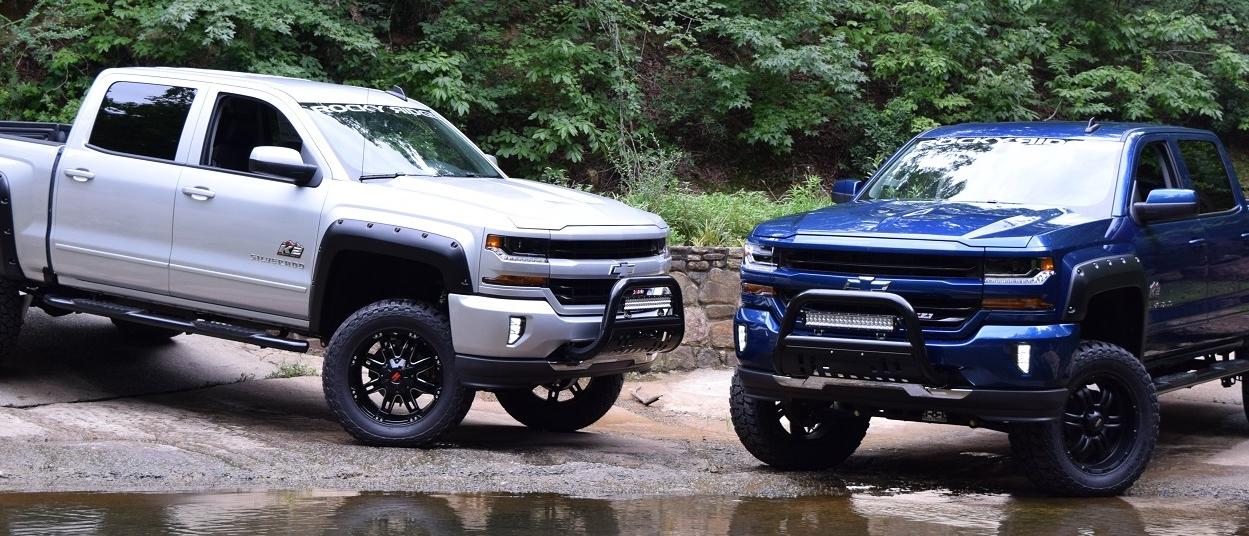 ROCKY RIDGE TRUCK PACKAGES AT J.B.A. CHEVROLET
J.B.A. Chevrolet is proud to carry custom Rocky Ridge lifted Silverado trucks 
WE'RE PROUD TO STOCK ROCKY RIDGE TRUCKS AT J.B.A. CHEVROLET
We share your passion for modified trucks, and nothing is better than a lifted truck that flaunts its rugged independence. With features like nitrogen-charged rear shocks, custom tire & wheel packages, stainless steel exhaust tips and bull bars with LED lights, there's a truck that can handle any terrain you want to conquer. With up to ten different packages for Rocky Ridge vehicles, don't hesitate to reach out to us at J.B.A. about all options available. Take a look at our list of features below to get an idea of some of the key benefits of a Rocky Ridge Trucks upfit vehicle. 
ABOUT ROCKY RIDGE TRUCK PACKAGES
What are Rocky Ridge Trucks?
Rocky Ridge Trucks is a specialty vehicle manufacturer (SVM) that provides quality upfit products that enhance GM trucks in accordance to GM's quality specification. Rocky Ridge Trucks was selected on the merit of their upfit or conversion, financial stability and adherence to the governmental and trade association requirements. J.B.A. carries a wide variety of these professionally-constructed, custom lifted trucks. As a family owned and operated business, Rocky Ridge speaks to our own principles, providing quality products for over three decades.
What does the direct manufacturer agreement mean for you?
This means that you can purchase a new lifted vehicle from J.B.A. with GM's factory warranty still in place. Rocky Ridge also provides an additional warranty of 3 years/36,000 miles on components directly installed by Rocky Ridge Trucks.
ROCKY RIDGE FEATURES 
What are the benefits of purchasing Silverado with a Rocky Ridge package at J.B.A.? Here's some possible key features below:  
SIGNATURE LIFT KITS FROM 2'' TO 6''
E-Coated Front Strut Tower Extension

E-Coated Front and Rear Crossmembers

E-Coated Full Front Skid Plate

Rocky Ridge 2.0 Nitrogen-Charged Rear Shocks

Brake-Line Relocation Bracket
CUSTOM TIRE & WHEEL PACKAGES
Alignment, RF balancing, system calibration
OPTIONAL INTERIOR/EXTERIOR MODIFICATIONS
Color-Keyed Pocket and Slimline Style Fender Flares

Wide Oval Stainless Steel Step Bars

Stainless Steel Exhaust Tips
PREMIUM OPTIONS
Stainless Steel Dual Exhaust w/Tips
FEATURED ROCKY RIDGE PACKAGES
It's time to seize your independence and embrace your wilder side at J.B.A. Chevrolet! Get an in-depth preview of some of the amazing packages available at J.B.A. below, or take a look at our available inventory in our listing at the bottom of this page.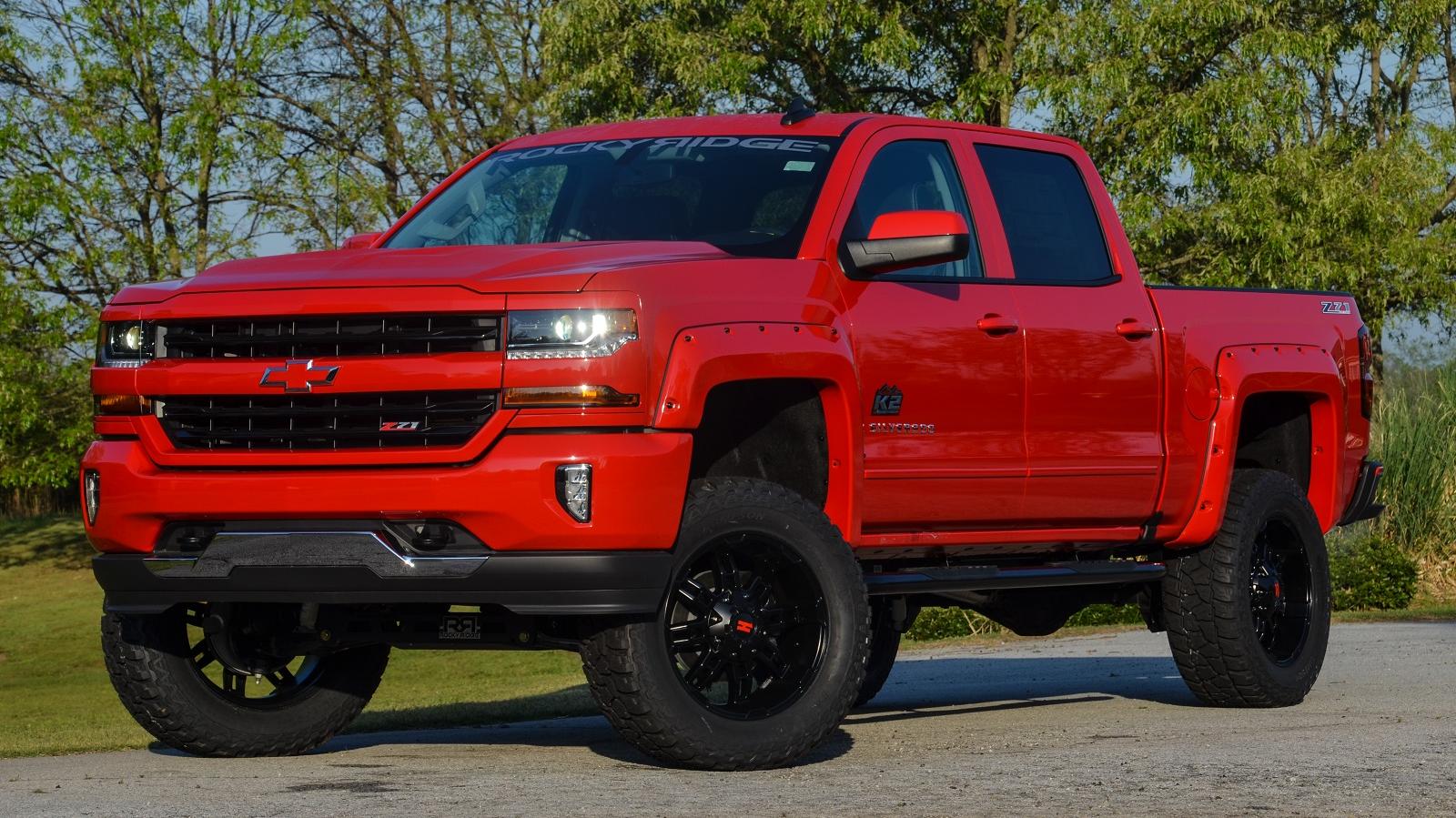 K2 PACKAGE
Experience the outdoors like never before with the Silverado 1500 K2 Edition. This 6-inch, custom lifted truck is ready to dominate with an attitude to match the "Savage Mountain" itself. What makes the K2 so ready to take on the tallest peaks in style? This Silverado comes equipped with muscular body-colored fender flares, black step boards, body-colored manufacturer badges, black wheels, and tough off-road tires to take the off-road experience to the next level. With a 3-year, 36,000-mile warranty, you're covered for whatever adventures await. Whatever your outdoor passion, take advantage of the K2 Edition from Rocky Ridge at J.B.A. Chevrolet!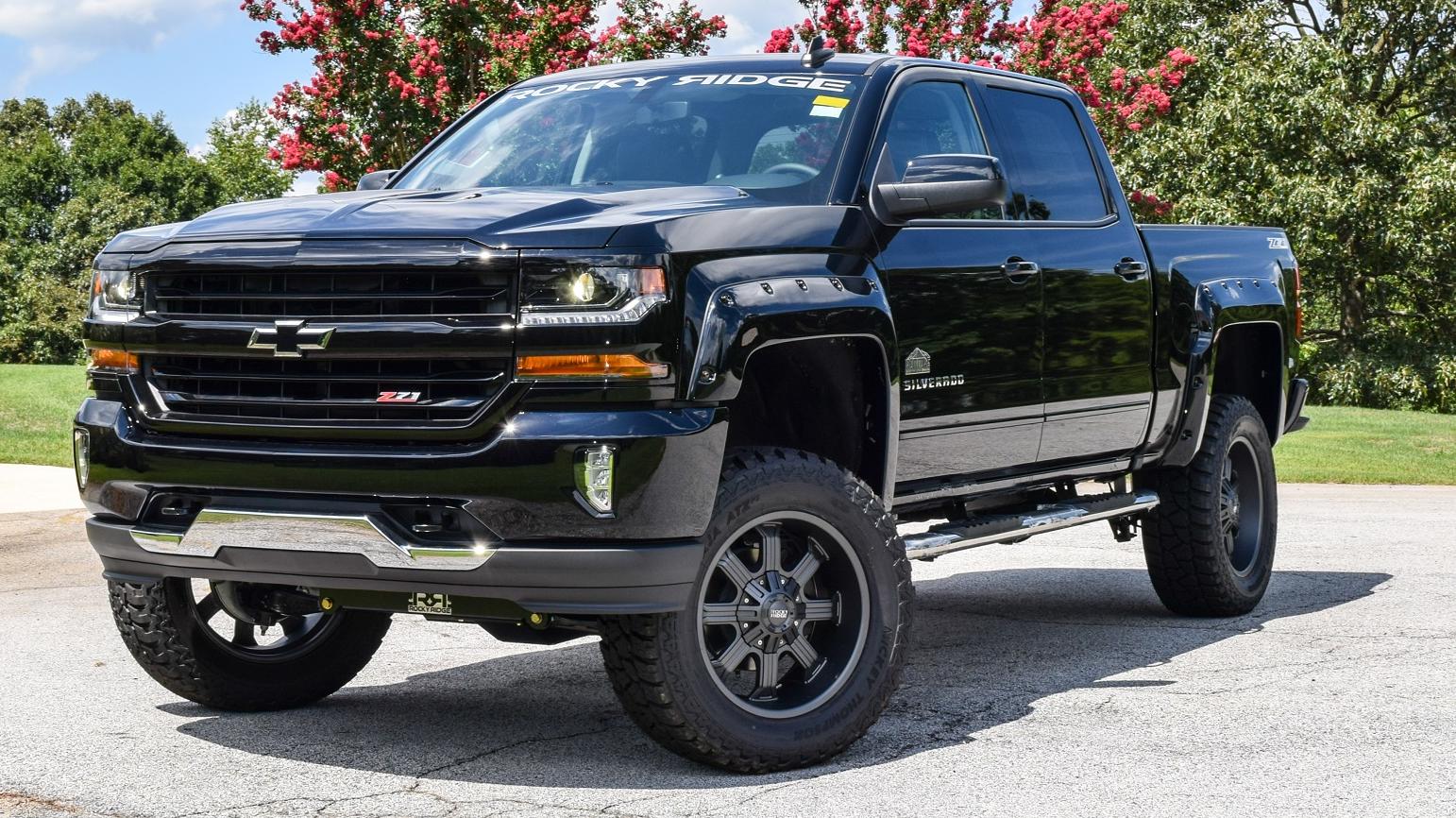 ALTITUDE PACKAGE
Ride your Silverado right to the top with the Rocky Ridge Altitude Package available at J.B.A.!
Altitude lifted trucks are the perfect combination of high style and substance for a truck that can truly go everywhere. This big bad Silverado has a six-inch custom-developed suspension lift kit, 20 inch off-road wheels and 35-inch all-terrain tires, and Rocky Ridge's additional 3-year, 36,000-mile warranty.